Discover the Finest Wines in Kenya
It's half past wine! And Oaks would not be complete without Corks. We've got a stunning cellar laden with a rich selection of grape varieties from around the globe to order from. Our tasty range of wine covers white wine, red wine and rosé wine. Plus if you're in the mood for a touch of fizz and sparkle, we can deliver bottles of delicious champagne to you!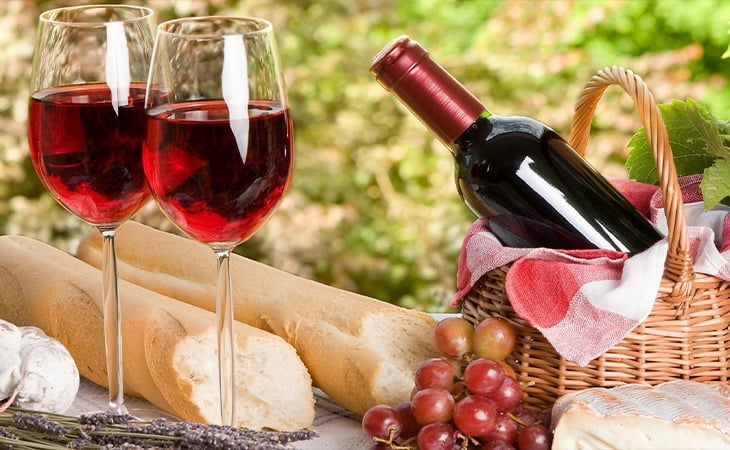 Read more
Show Filters
Welcome to Oaks & Corks, your go-to destination for exceptional wines in Kenya. Our passion for curating the finest wine selection drives us to provide you with top-quality wines at unbeatable prices. With two strategically located wine shops in Nairobi and a user-friendly online platform, you're just a click away from the perfect wine experience.
At Oaks & Corks, we understand the importance of convenience. That's why we offer lightning-fast 24/7 wine delivery in Nairobi, ensuring you receive your order in under 30 minutes. Whether you're hosting a last-minute gathering, planning a romantic dinner, or simply enjoying a quiet evening at home, our prompt wine delivery service ensures your favourite bottle arrives at your doorstep in no time.
What is Wine? – Wine 101
Wine is just like food! A delicious meal curated with a variety of ingredients. Grapes are a given but are not the whole story.
Understanding a little more about wines, their flavours, and the intricate details of different blends can help you choose what to go for depending on your moment or your mood. So let's break it down:
Water
A long time ago, people didn't have a great deal of choice when it came to quenching their thirst. The wine was actually considered a safer and more sanitary drinking option than bog water or curding milk. This was the case in warmer regions where there was not enough water, and what was there could get spoiled more easily. This is probably why the story of cellar cask wine brands started in warm and dry regions around South Africa and the Mediterranean Sea.
Grapes
Winemaking starts with grapes, and some process still ends with grapes. To make an excellent blend, you must have good grapes. Indigenous grape species are still used today, with new grapes being cultivated every day and vines being transported in different regions all over the world. There are several different types of wine brands in Kenya curated from different types of grapes.
White Wine Grapes
The most popular white wine grapes include Albarino, Chardonnay, Pinot Grigio, Pinot Blanc, Chenin Blanc, Sauvignon Blanc and Viognier.
Red Wine Grapes
The more popular red wines are curated from Cabernet Franc, Cabernet Sauvignon, Grenache, Merlot, Pinot Noir, Sangiovese, Shiraz and Zinfandel grapes.
Rose Wine Grapes
Many exotic roses are made with blends but some of the more ruling grapes for rosé include Pinot Noir and Zinfandel.
ALCOHOL CONTENT (ABV)
As we all know, wine is made from grapes and the alcohol in every bottle is produced when yeast absorbs the sugar in grape juice. The yeast components ingest the sugar producing alcohol and carbon dioxide as a by-product. Many wineries prefer to make use of indigenous yeasts which is sourced from the grape skin. Each blend can present a contrast of yeast strains, allowing for the production of more distinctive and complex wines. The 4th street wine brand in Kenya as well as the blends from Robertson winery have a low alcohol content of 8% . Blends that are naturally fermented rarely go over 15%. The Nederburg Cuvee Brut from South Africa and the Gato Negro Cabernet Sauvignon with an alcohol content of 12.5% are excellent examples. This is because yeast exhausts the sugar needed to ferment. Wine with a high alcohol content are generally from warmer regions where grapes remain on the vines until they achieve a high level of ripeness with high concentrations of sugar.
Acid
Acid is one of the most vital components of wine contributing to the delicious flavors that make you smack your lips. The main acid in wine is called tartaric acid and having the right amount of acid in every wine blend is crucial. Malic acid is also present in Grape Juice, and the combination gets more intense during the fermentation process. This explains why blends curated from ripened grapes are less acidic than wines blended from green berries.
Sugars
The sugar in wine is generally the natural fruit sugars, sourced from fructose and glucose, usually in equal portions. The sugar concentration in different wine brands varies greatly depending on how sweet the wine is. Dry wine brands like the Nederburg Cabernet Sauvignon are curated with very low sugar levels, and some sweet wines like the elegant 4th Street natural sweet red can contain over 71 grams per liter. Most wines, even dry wines contain between 0 to 10 grams of carbohydrates per liter.
And that's all. A lot of water, grapes and just a few molecules blended together creating an amazing variety in every glass of wine that you sip on.
Accompaniments
If you're just starting your wine journey, you'll find these tried and true methodologies that will give rise to fantastic pairings. With that said, the first general rule is that the wine should have the same flavor intensity as your meal.
Red wines best pair with bold flavored meats (Just like red meat)
White wines best pair with light-intensity meats (Like fish or chicken)
Bitter wines (Like dry red wine) best pair with fat.
Fast and Reliable Wine Delivery
Order different wine brands in Kenya from the comfort of your own home. We have stocked up on a variety of amazing blends like the Gran Verano Merlot, Asconi, Nederburg merlot and the Nederburg Rose. If you are looking for the perfect gift, we have got a great selection of brands for special days such as birthday's, valentine's day and Christmas. To make it extra special, you can send us a message that we can add and deliver it straight to the doorstep of your loved one.
Don't forget to browse our website and check out our current offers on bottles and cases.